WHAT IS SKIN CANCER AND HOW IS IT TREATED?
Cancer is the abnormal growth of cells. The cancer tissue usually grows and destroys the surrounding tissue. The most common types of cancers that occur in the skin are basal cell carcinoma, squamous cell carcinoma and malignant melanoma.
In the Mohs' Surgery Unit, we use microscopically controlled surgery to treat basal cell carcinomas (cancers), squamous cell carcinomas (cancers) and some much rarer skin tumours.
There are several treatments for skin cancer; all highly successful in the majority of patients.
The skin cancer treatment methods include excision (surgical removal) and suturing (stitching); curettage and cautery (scraping and burning with an electric needle); radiotherapy (x-ray); Mohs' surgery (microscopically controlled excision); laser surgery and photodynamic therapy. The method chosen depends on several factors such as the location of the cancer, its size and previous therapies.
WHAT IS MOHS' SURGERY?
In the early 1940s Dr Frederick Mohs, Professor of Surgery at the University of Wisconsin, developed this treatment for skin cancer. The technique has since come to be known as Mohs' micrographic surgery.
Mohs' surgery is a highly specialised treatment for the total removal of skin cancers, in which the microscope is used to determine the extent of the tumour and its location.
The major advantage of Mohs' surgery over other surgery is that the tumour is completely removed with minimal loss of normal skin. The alternative is often deep and wide excision resulting in larger loss of normal tissue.
MOHS' SURGERY PROCEDURE
The skin suspicious for cancer cells is treated with a local anaesthetic so that there is no feeling of pain in the area. A thin piece of tissue is removed and carefully divided into pieces that will fit on a microscope slide.
The edges are then marked with specially coloured dyes; a careful map of the tissue removed is made and the tissue is frozen by the technician. Thin slices can then be made from the frozen tissue and examined under the microscope by the doctor.
A pressure dressing is then applied and the patient is asked to wait while the slides are being processed.
The Doctor will then examine the slides under the microscope and be able to tell if any tumour is present. If cancer cells remain, another layer of tissue is then surgically removed, and the procedure is repeated until no cancer cells remain. This process preserves as much normal, healthy surrounding tissue as possible.
DURATION OF MOHS' SURGERY
The removal of each layer of tissue takes approximately one or two hours. Only 20 to 30 minutes of that time is spent in the actual surgical procedure, the remaining time being required for slide preparation and interpretation. It usually takes removal of two or three layers of tissue (called "stages") to complete the surgery. Therefore, by beginning early in the morning, Mohs' surgery is generally completed in one day.
RATE OF CURE USING MOHS' SURGERY
Using this technique, the percentage of success is very high, often 97% to 99%, even if other forms of treatment have failed. However, no one can guarantee a 100% cure.
HOW DO I PREPARE FOR MOHS' SURGERY?
The best preparation for Mohs' surgery is a good night's rest followed by a light breakfast. If you are taking any medication, take it as usual unless we direct otherwise.
Please advise Dr Hills if you are takin Aspirin or products containing Aspirin, Coumadin, Pradaxa or Vitamin E.
Because you can expect to be with us for several hours, it is wise to bring a book or magazine to read. Also, because the day may prove quite tiring, it is advisable to have someone accompany you on the day of surgery to provide companionship and to drive you home.
FOR THE DAY OF SURGERY PLEASE NOTE THE FOLLOWING:
Wash your hair the night before
No make up
No alchol the night before
Clothes
slip on/off shoes
front opening, short sleeved shirt
cardigan/jacket, not pullover
slacks/tracksuit pants for ladies
AFTER THE SURGERY, PLEASE HAVE AT HOME:
Panadol or Panadeine
Packet of frozen peas to use as ice pack
WHAT CAN I EXPECT AFTER MOHS' SURGERY?
Pain
You will experience little discomfort after your surgery. We request that you do not take Aspirin unless approved by Dr Hills, but use Panadol, Panamax or Panadeine. Rarely will it be necessary to prescribe a stronger pain medicine.
Bleeding
Rarely does bleeding occur following surgery. If this should happen, the bleeding can usually be controlled by the use of pressure. You should take a gauze pad, lie down and apply constant pressure over the bleeding point for 20 minutes.
Restrictions
Depending on the size of the wound and the location of the lesion, we may recommend restricted physical activity for a day or more. Details will be discussed with you after the surgery.
Complications
There may be minor complications which may occur after Mohs' surgery. A small red area may develop surrounding your wound, indicating infection. If this redness does not subside in two days or if the wound begins to drain pus, you should notify our office immediately.
Swelling or bruising are very common following Mohs' surgery, especially when it is performed around the eyes. These conditions usually subside within four to five days after surgery and may be decreased by sleeping with the head slightly elevated and by using an icepack for short periods of time during the first 24 hours.
At times, the area surrounding your operative site will be numb to the touch. This area of anaesthesia (numbness) may persist for several months or longer. In some instances it may be permanent. If this occurs, please discuss it with Doctor at your follow up visit.
WHAT HAPPENS AFTER THE TUMOUR HAS BEEN REMOVED?
After Mohs' surgery you will be left with a surgical wound. This wound will be dealt with in one of several ways. The several options will be discussed with you in order to provide the best possible cosmetic results.
The possibilities include:
Closing of the wound, or part of the wound, with stitches.
Various skin closures, such as grafts and flaps, or reconstructive procedures.
Healing by spontaneous granulation.
Referral for reconstruction or radiotherapy.
Upon completion of the surgery, we will recommend which of these choices will be best for your individual case.
WHAT HAPPENS IF THE WOUND IS CLOSED WITH STITCHES?
Closing the wound with stitches is usually performed. This involves some adjustment of the wound and stitching the skin edges together. The procedure speeds healing and offers a good cosmetic result. For example, the scar can be hidden in a facial line or a wrinkle line.
With a flap, a larger wound needs to be created temporarily to allow movement of skin. This leads to more stitches than you may have anticipated. The final cosmetic result is usually very good. With grafts, a second wound is created to obtain skin (donor site). This is usually taken at a "non cosmetic" site to minimise scarring.
Some wounds may require more extensive surgery and need to be repaired under a general anaesthetic. Your Doctor may discuss this preoperatively if this is anticipated or after the Mohs' surgery.
The stitches will remain in place for approximately five to seven days usually, or for up to two weeks, depending on the location of the lesion. While the stitches are in, it is important to keep the area dry and refrain from activities that might pull on the sutures.
WHAT IS SPONTANEOUS GRANULATION?
Healing by spontaneous granulation involves letting the wound heal by itself.
Experience has taught us that there are certain areas of the body where nature will heal a wound as nicely as any further surgical procedure. If the resultant scar is unacceptable, some form of cosmetic surgery can be performed at a later date.
If the wound is allowed to granulate in it usually heals in four to eight weeks and requires daily dressing changes.
WHAT ARE THE RISKS OF MOHS' SURGERY?
The number one priority is total removal of the skin cancer. Incompletely removed skin cancers can recur and endanger not only important structures such as the eye but also spread to other parts of the body.
Mohs' surgery, as with any surgery, may lead to bleeding, bruising and infection. These have already been mentioned and are easily controlled.
Nerve damage is usually temporary and recovers but in some cases can be permanent if the cancer is extensive and the nerve is involved. Scarring from the surgery is usually limited and settles very well. Flaps and grafts take time to settle but improve significantly with time. They may require massage, cortisone injections or further surgery to improve the scar. Sometimes the extent of the skin cancer and the complexity of the wound may require a larger reconstruction which can leave more obvious scarring for some time. Doctor can discuss with you a range of options to deal with this circumstance.
WOUND CARE FOLLOWING MOHS' SURGERY
Care of the wound is explained after reconstruction of the wound is performed.
Ice Treatment
Apply an ice pack, or frozen peas, around the eyes (taking care to avoid the eyes) to minimise or prevent swelling and/or bruising, for 20 minutes when you first arrive home. Repeat ice again for 20 minutes prior to going to sleep and again in the morning.
If bruising is very obvious on arrival at home, you may need to apply ice every hour, for 10 minutes, until you go to sleep.
Always protect the skin by wrapping ice in a washer or cloth.
Additional Care
Do not take any form of aspirin or medication that may increase the chance of bleeding unless approved by Dr Hills. Paracetamol or its derivatives may be taken.
Sleep with an extra pillow.
Bend from the knees if necessary to stoop; do not incline the head.
Occasionally bleeding may occur at home during the night; this is not uncommon and is nothing to be alarmed at. Lie flat and apply firm pressure, with ice, to the bleeding site for 20-30 minutes.
If bleeding has not lessened or ceased, contact Dr Russell Hills on 3720 8788.
ONCE THE WOUND HAS HEALED, HOW OFTEN DO I RETURN FOR FOLLOW UP?
A follow up period of observation for at least five years is essential. After the wound has healed, our practice is to have patients return to their referring doctor for yearly visits.
HAVE QUESTIONS ABOUT MOHS' SURGERY?
For a confidential discussion on how our Mohs' Surgery might assist you, please contact us on 07 3720 8788 or make an enquiry online. We look forward to speaking with you.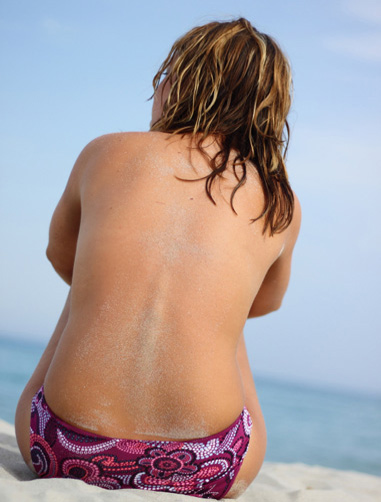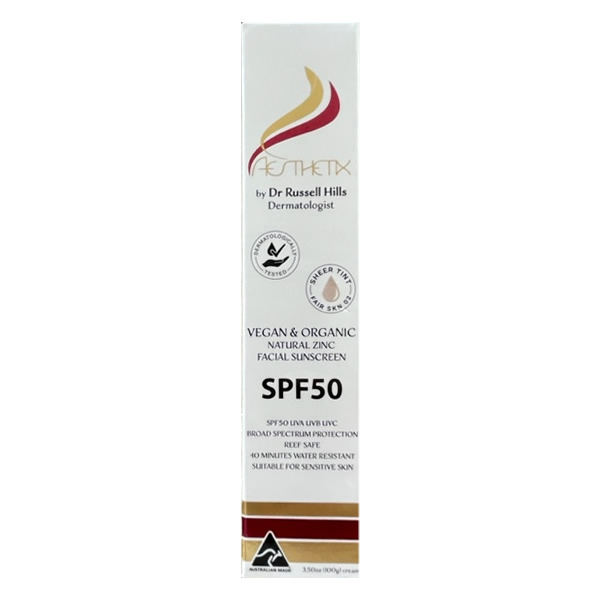 NEW Sunscreen Product
Dr Hills has developed a Zinc Oxide sunscreen containing no chemical sunscreen. Our Aesthetix Sunscreen is available in standard and tinted, and is available for purchase at Dr Hills rooms or you can buy it from our online shop.
Dr Russell Hills is an experienced cosmetic dermatologist based in Brisbane, Australia and is a member of the Academy of Facial Plastic Surgery. Dr Hills also has extensive experience in MOHS surgery for skin cancer removal, and is the principal Dermatologist at Aesthetix.
Dr Hills regularly lectures on cosmetic and laser surgery and skin cancer removal, and has numerous publications on these topics. He is a member of a number of Australian and American medical associations, and attends local and international conferences to stay up-to-date with the latest approaches in cosmetic medicine.
Adherence to the information on this site will not ensure successful treatment in every situation and will not ensure specific results in the individual patient. Although complications may be rare, there are certain inherent risks connected with surgical procedures that should be discussed with the dermatologist. This Website contains very general information and any procedures mentioned in it should be discussed in detail with your dermatologist at the time of consultation.
MOHS Surgery in Brisbane: Our services include microscopic skin cancer surgery, Mohs surgery, Mohs surgeon, Mohs skin cancer treatment Brisbane, including treatments for SCC cancer and BCC cancer.
We also offer cosmetic surgery and facial plastic surgery services by a qualified dermatologist in our cosmetic clinics in Brisbane, based in Auchenflower and Nundah, including lip fillers, droopy eyelids and acne scars.

We service clients in the greater Brisbane area, including but not limited to: central Brisbane CBD, Auchenflower, Paddington, West End, Bardon, Toowong, Spring Hill, Kangaroo Point, New Farm, East Brisbane, Newstead, Kelvin Grove, Ashgrove, Indooroopilly, The Gap, Highgate Hill, Chapel Hill, Morningside, Bulimba, Enoggera, Grange, Lutyche, Clayfield, Nundah, Chermside, Everton Hills, Everton Park, Greenslopes, Sandgate, Woollongabba, Southbank, Carindale, Mount Gravatt, Moorooka, Acacia Ridge, Logan, Springwood, Nudgee, Ascot, Hamilton, Taringa, Annerley, Yeronga, Tennyson, Graceville, Sherwood, St Lucia, Kenmore, Brookfield, Coorparoo, Red Hill, Milton, South Brisbane, North Brisbane.