TREATMENT OF VARICOSE VEINS & SPIDER VEINS
Unwanted leg veins (spider veins and varicose veins), known medically as telangiectasias or superficial varicosities, are dilated skin capillaries. These may become visible with time and may also lead to a dull aching of the legs after prolonged standing.
Sclerotherapy is the technique of instilling a specific solution into these vessels (tiny capillaries or larger varicose veins) using a small needle. The solution irritates and destroys the inner lining of the blood vessel so it ceases to carry blood. The body then replaces this damaged vessel with an imperceptible scar. This does not harm the circulation – it improves it by eliminating the abnormal, unnecessary vessel. Several injections may be needed for a specific area of telangiectasia. The procedure has a variable level of pain. Fading of the vessels is a slow process which takes one to six months. The goal is to produce a 75% to 90% improvement.
SCLEROTHERAPY COSTS
The cost of vein treatment is dependent on the time spent by your doctor. A rebate from Medicare is only available for larger vessels in the leg, not the superficial ones.
Results of vein treatment cannot be guaranteed, but most patients are very pleased with the cosmetic and functional improvement.
WHAT CAUSES SPIDER VEINS & VARICOSE VEINS?
No one is totally sure. Certain families are predisposed to this, particularly female relatives. Certain things make spider veins worse: hormone tablets, pregnancy, birth control pills, tight girdles and garter belts, prolonged standing or sitting, and trauma.
HOW DOES SCLEROTHERAPY WORK?
The solution destroys the tiny cells which line the blood vessels, without damage to the surrounding tissues.
HOW SOON WILL THE LEG VEINS DISAPPEAR?
Each vessel usually requires one to three treatments. The vessels disappear over a period of two weeks to three months. Recurrences may rarely occur over a period of one to five years. This treatment does not prevent new telangiectasia from developing.
ARE THERE CERTAIN LEG VEINS WHICH RECUR MORE COMMONLY?
Yes. They are the type of vessels which occur in a mat of very fine radiating vessels.
HOW OFTEN CAN I BE TREATED WITH SCLEROTHERAPY?
The same area should not be injected for six to eight weeks to allow for complete healing. Different areas may be treated sooner.
HOW MANY TIMES DOES SCLEROTHERAPY HAVE TO BE DONE?
This varies with the number of areas that must be injected, as well as the response to each injection. It usually takes one to three injections to obliterate any vessels and 10 to 40 vessels may be treated in any one session.
ARE THERE KINDS OF LEG VEINS THAT CANNOT BE TREATED?
Certain types of large varicose veins may not respond readily to sclerotherapy alone. These vessels may require surgery followed later with sclerotherapy. You may be referred to a Vascular Surgeon for complete or partial treatment of these types of large varicose veins. Some of the extremely small vessels (less than a fraction of a mm) may require treatment with a vascular laser.
ARE THERE OTHER METHODS OF TREATING THESE LEG VEINS?
Three other methods are used:
Laser surgery – Cutera Excel V Laser.
Electrodessication – this method produces a non-specific destruction of both the vessel and overlying skin, resulting in a greater incidence of scarring.
Surgical ligation or circumsuture – this operative procedure always results in a scar and is best reserved for large varicose veins.
IS THERE ANY WAY TO PREVENT SPIDER VEINS OR VARICOSE VEINS?
The use of support hose may be helpful.
Regular exercise and weight reduction may also be helpful.
WHAT ARE THE SIDE-EFFECTS OF SCLEROTHERAPY?
Slight blistering may occur around the injected vessels and will resolve in a day or so.
10-30% of patients develop a small freckle-like tan to brown spot around the injected vessel and along its course. This usually resolves in 80% of these patients within 3-6 months. A few patients will have a persistent freckle for up to a year.
Fine new blood vessels (neo-vascularization) develop in approximately 10% of cases, around the injection sites. These will usually persist for six months and have faded away by one year.
Slight stinging or burning may occur with injection of certain types and concentrations of solutions in some areas.
Sometimes a clot develops at the injection site (especially if the recommended pressure stockings are not worn as advised). This clot will not cause internal problems, but its removal within two weeks of injection will speed the healing process and decrease the incidence of "freckling".
Swelling over the injection site may rarely occur. It is particularly common when patients have jobs in which they stand for long periods of time or when vessels in the ankles are injected. The swelling is not dangerous but occasionally must be treated with elevation and compression dressings.
A small superficial ulceration of the skin overlying the injected vessel may occur. This does not usually leave a scar but needs to be seen as soon as possible by your doctor.
Superficial thrombophlebitis, an irritation of the injected vessel, occurs in less than one in a thousand patients. It may have to be treated with anti-inflammatory agents and compression stockings.
Allergy may occur but is rare.
PREVENTION OF SCLEROTHERAPY SIDE-EFFECTS
Your doctor may apply compression bandages or recommend compression stockings to you for decreased side-effects. Your doctor will advise if your veins require such treatment.
PREPARATION FOR LEG VEIN TREATMENT
Advise Dr Hills if you take Aspirin and so-called blood thinning drugs prior to your appointment
Do not shave your legs for two days prior to appointment.
Eat a light breakfast or lunch an hour or so prior to appointment
Bring shorts to wear during the procedure and slacks to wear out of the office.
Do not apply cream to your legs on the day of treatment.
WHAT SHOULD I DO AFTER SCLEROTHERAPY?
Walk for 30 minutes immediately following the injections.
If possible, do not drive home yourself. If you must drive, keep the legs moving and make frequent stops for walking (every 20 minutes).
Maintain normal daytime activities.
Walk at least an hour a day – the more the better.
No hot baths for two weeks.
Avoid standing without moving about. If you must stay in one place, move feet and toes frequently.
If the legs become painful after the injection, walk.
Cover legs with a plastic bag when showering.
Avoid strenuous physical activity (aerobics) for the first 48-72 hours.
READY TO DISCUSS SCLEROTHERAPY?
For a no-obligation discussion on how our sclerotherapy treatments might assist you, please contact us on 07 3720 8788 or make an enquiry online. We look forward to speaking with you.
Dr Russell Hills is an experienced cosmetic dermatologist based in Brisbane, Australia and is a member of the Academy of Facial Plastic Surgery. Dr Hills also has extensive experience in MOHS surgery for skin cancer removal, and is the principal Dermatologist at Aesthetix.
Dr Hills regularly lectures on cosmetic and laser surgery and skin cancer removal, and has numerous publications on these topics. He is a member of a number of Australian and American medical associations, and attends local and international conferences to stay up-to-date with the latest approaches in cosmetic medicine.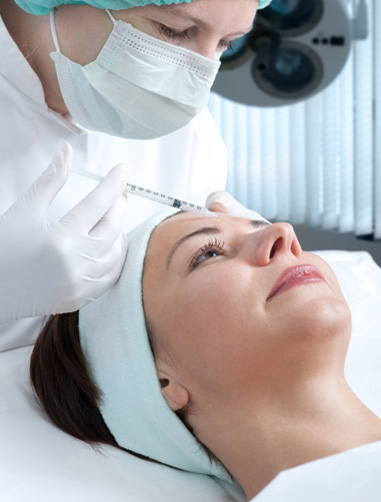 Adherence to the information on this site will not ensure successful treatment in every situation and will not ensure specific results in the individual patient. Although complications may be rare, there are certain inherent risks connected with surgical procedures that should be discussed with the dermatologist. This Website contains very general information and any procedures mentioned in it should be discussed in detail with your dermatologist at the time of consultation.
Sclerotherapy in Brisbane: Our services include treatment of leg veins, varicose vein treatment, spider vein treatment, leg vein treatment, spider vein treatment in legs, vein treatment Brisbane and blood vessel treatment.
We also offer cosmetic surgery and facial plastic surgery services by Dr Russell Hills in our cosmetic clinics in Brisbane, based in Auchenflower and Nundah, including blepharoplasty, lip fillers and body sculpting, along with skin needling and chemical peels.

We also service clients in the greater Brisbane area, including but not limited to: central Brisbane CBD, Auchenflower, Paddington, West End, Bardon, Toowong, Spring Hill, Kangaroo Point, New Farm, East Brisbane, Newstead, Kelvin Grove, Ashgrove, Indooroopilly, The Gap, Highgate Hill, Chapel Hill, Morningside, Bulimba, Enoggera, Grange, Lutyche, Clayfield, Nundah, Chermside, Everton Hills, Everton Park, Greenslopes, Sandgate, Woollongabba, Southbank, Carindale, Mount Gravatt, Moorooka, Acacia Ridge, Logan, Springwood, Nudgee, Ascot, Hamilton, Taringa, Annerley, Yeronga, Tennyson, Graceville, Sherwood, St Lucia, Kenmore, Brookfield, Coorparoo, Red Hill, Milton, South Brisbane, North Brisbane.