Tattoos are no longer permanent, and no matter the reason for wanting to remove your tattoo, we know you want it done effectively and affordably.
At Aesthetix Brisbane we offer the latest in tattoo laser removal technology for:
Effective tattoo removal*
Reduction in the number of treatment sessions*
Minimal discomfort and downtime*
*individual results may vary
Each tattoo removal procedure will vary depending on your individual removal request and the tattoo that you wish to have removed. We invite you to book a free tattoo removal consultation in our Brisbane clinic so we can personally assess your tattoo removal needs and provide you with a treatment plan.
WHAT IS LASER TATTOO REMOVAL?
Tattoo removal lasers are specially designed lasers that shine quick bursts of light to break down ink or pigment particles until they are small enough to be carried away by the white blood cells. These particles are then eliminated over time through your lymphatic system via the liver and digestive system.
Laser tattoo removal has a short treatment time, is effective and with the latest technology now available in Brisbane, you'll need significantly fewer treatment sessions saving you time and money.
THE PICOSURE LASER – THE PICOSECOND TECHNOLOGY
The FDA approved PicoSure Laser is revolutionary new technology to effectively remove all tattoos including tattoos with difficult colours, including green and blue but also previously-treated or stubborn tattoos.
The PicoSure laser removes tattoos by delivering ultra-short bursts of energy in pico-second intervals to the skin. These pulses create a photomechanical effect, or PressureWave that targets ink while avoiding any uninked skin. The PressureWaves shatter the ink into tiny, dust-like particles which are easily eliminated by the body. This results in clearer skin with fewer treatments without injuring the surrounding skin. It is the fastest and most effective laser treatment for tattoo removal.
Ultra-short pulse duration is the difference
Picosecond pulse width is 100 times shorter than nanosecond technology
Only ultra-short pulse durations trigger the photomechanical effect
With this short pulse width, half the power is required compared to nanosecond lasers
Traditional nanosecond lasers predominantly rely on photothermal action, delivering heat to the pigment and surrounding tissue and requiring more treatments to achieve results.
The PicoSure technology is a world first and considered a breakthrough in tattoo removal. It is also effective and safe for skin pigmentation treatments and laser skin revitalisation, which are also available in our Brisbane clinic. Our skin needling and our acne scar treatments are great alternatives or laser skin treatments.
BEFORE AND AFTER PHOTOS OF LASER TATTOO REMOVAL
These photos show laser tattoo removal results. Book a consultation to discuss your personal tattoo removal needs. The outcomes shown are only relevant for these patients and does not necessarily reflect the results other patients may experience as results may vary due to many factors including the individuals genetics, diet and exercise.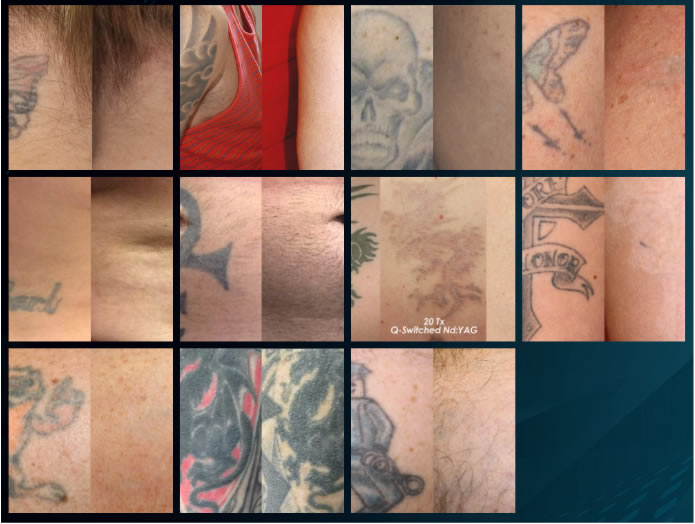 WHO IS LASER TATTOO REMOVAL FOR?
Laser tattoo removal is suitable for anyone looking to effectively remove any unwanted tattoo of any age, colour, and size on any location of the body. If you're looking to remove a tattoo in Brisbane, laser tattoo removal is effective and affordable.
HOW MUCH DOES LASER TATTOO REMOVAL COST?
Laser tattoo cost will vary depending on the required course of treatment to remove or lighten your tattoo. You will require a course of treatments and this number and length of each treatment will vary depending on the size, location, age, and colours of your tattoo.
To find out how much your tattoo will cost to remove, we suggest booking a free consultation to discuss your personal removal needs.
CAN ALL TATTOOS BE REMOVED WITH PICOSURE LASER TATTOO REMOVAL?
The PicoSure laser uses picosecond (one trillionth of a second) pulse width technology that is 100 times faster than outdated nanosecond technology. Its effective on all tattoo colours, as well as also previously-treated or stubborn tattoos and clears tattoos faster than ever before.
Some tattoos will be easier to remove than others and there are many factors contributing to the success of laser tattoo removal. Tattoos closer to your heart can be easier to remove as your body finds it easier to digest the ink after it's been broken down. The colours and how deep the ink is embedded could also impact how difficult the tattoo will be to remove.
CAN LASER TATTOO REMOVAL BE USED ON ALL SKIN TYPES?
Laser tattoo can be used on all skin types, however people with darker skin have a higher risk of hypo-pigmentation as the laser may remove pigment from their skin along with pigment from their tattoo.
WHAT ABOUT EYEBROW TATTOO REMOVAL?
As permanent makeup or cosmetic tattoos have become popular, so has their removal. PicoSure laser tattoo removal technology available in Brisbane, is effective on eyebrow tattoos as well as lip liner tattoos. The technology only targets the tattoo pigment and not the surrounding skin making it the most effective treatment for delicate areas on the face.
CAN I REMOVE A BRAND NEW TATTOO?
You can remove a brand new tattoo, but you will need to wait until the tattoo has completely healed. This typically means you need to wait 6 – 8 weeks before removing your brand new tattoo.
We highly recommend you take good care of your tattoo during this time so your skin heals without scarring. Once your tattoo has healed we can start a course of treatments to remove it using our laser tattoo removal technology.
WILL MY TATTOO BE COMPLETELY GONE?
No one can guarantee that a tattoo will be removed 100%. There are many factors that come into play when it comes to removing a tattoo, from ink colours to the location of the tattoo, and as a result of these factors, some tattoos can be more stubborn requiring more treatment than others. The laser treatment will be adjusted with each visit based on the results of the previous treatment.
HOW MANY LASER TATTOO REMOVAL TREATMENTS WILL I NEED?
Each tattoo is different and there are many variables that will curb the duration and number of treatments that you may need. Some laser tattoo removal projects only need a couple of sessions to achieve the lightness required to cover up a tattoo, while others take many months to achieve total removal.
The number of treatments will depend on your personal requirements as well as the size of your tattoo, the colours and types of inks used, age and even the location. Using our PicoSure laser removal system in Brisbane, will on average, require half the amount of treatments when compared to nanosecond technology.
HOW LONG WILL MY LASER REMOVAL TREATMENT TAKE?
Laser tattoo removal treatments usually take only a few minutes or slightly longer. However, tattoo size will dictate the time, so treatment time will vary from tattoo to tattoo.
To find out how long your tattoo removal project will take, we suggest booking a free consultation with our Brisbane clinic to discuss your personal removal needs.
HOW OFTEN CAN I HAVE A TREATMENT?
We suggest a 6-8 week period between each tattoo removal treatment. These staggered treatment intervals give the body time to clear away the ink particles and heal before the next treatment.
WHAT WILL MY SKIN LOOK LIKE AFTER THE LASER TREATMENT?
After your tattoo laser treatment, there is usually a whitening of the tattoo. Blisters and scabs may also form. We suggest placing an ice-pack on the treated area and a mild analgesic may be taken if required. The skin around the treated area will not be affected.
There is no guarantee that the tattoo will disappear completely, however, reports from patients who have undergone tattoo removal with the PicoSure laser have been outstanding and have surpassed all other tattoo removal technology results.
CAN I RE-TATTOO THE AREA AFTER A LASER TATTOO REMOVAL?
Once your skin has healed after laser tattoo removal you can re-tattoo the area. Some clients get a series of treatments to just lighten the ink enough to go over it with another tattoo.
DOES LASER TATTOO REMOVAL HURT?
There will be some level of discomfort associated with removing your unwanted tattoo, but with the revolutionary PicoSure laser, the number of treatments required is halved when compared with other technologies.
Clients describe the discomfort as a rubber band snapping against your skin. A number of numbing solutions can be used depending on your needs and a Zimmer cooler can direct cold air onto the treatment site to minimize discomfort.
WHAT DO I NEED TO CONSIDER POST LASER REMOVAL TREATMENT?
We recommend a bandage for a few days to cover any blisters, by this time they should scab and over time, peel and regenerate. The more treatments you have, the less aftercare is needed as there is less ink to react to the laser. As the skin heals, we strongly recommend protecting the new skin from the sun by keeping it covered or using SPF 30 sunscreen.
ARE THERE SIDE EFFECTS OF LASER TATTOO REMOVAL?
For the most part, there are minimal side effects of laser tattoo removal. The most common side effect is a darkening or lightening of the skin, known as hyper or hypopigmentation. This usually corrects itself in 6 to 12 months after treatment. Poor aftercare could lead to Infection of the blisters or scarring, but the procedure itself has a low risk of scarring.
READY TO TALK ABOUT LASER TATTOO REMOVAL?
For a no-obligation discussion on how our laser tattoo removal treatments might assist you, please contact us on 07 3720 8788 or make an enquiry online. We look forward to speaking with you.
Dr Russell Hills is an experienced cosmetic dermatologist based in Brisbane, Australia and is a member of the Academy of Facial Plastic Surgery. Dr Hills also has extensive experience in MOHS surgery for skin cancer removal, and is the principal Dermatologist at Aesthetix.
Dr Hills regularly lectures on cosmetic and laser surgery and skin cancer removal, and has numerous publications on these topics. He is a member of a number of Australian and American medical associations, and attends local and international conferences to stay up-to-date with the latest approaches in cosmetic medicine.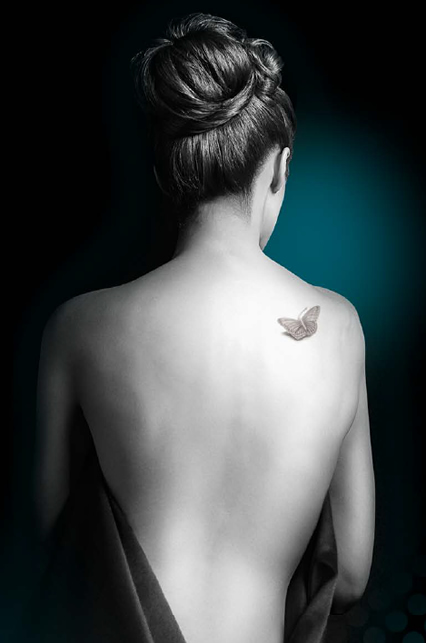 Laser Tattoo Removal in Brisbane: Our services include laser tattoo removal, eyebrow tattoo removal, picosure tattoo removal, cosmetic tattoo removal, permanent tattoo removal and new tattoo removal.
We also offer cosmetic surgery services and facial plastic surgery by Dr Russell Hills in our cosmetic clinics in Brisbane, based in Auchenflower and Nundah, including mohs surgery and treatments for acne scars and excessive sweating.
We service clients in the greater Brisbane area, including but not limited to: central Brisbane CBD, Auchenflower, Paddington, West End, Bardon, Toowong, Spring Hill, Kangaroo Point, New Farm, East Brisbane, Newstead, Kelvin Grove, Ashgrove, Indooroopilly, The Gap, Highgate Hill, Chapel Hill, Morningside, Bulimba, Enoggera, Grange, Lutyche, Clayfield, Nundah, Chermside, Everton Hills, Everton Park, Greenslopes, Sandgate, Woollongabba, Southbank, Carindale, Mount Gravatt, Moorooka, Acacia Ridge, Logan, Springwood, Nudgee, Ascot, Hamilton, Taringa, Annerley, Yeronga, Tennyson, Graceville, Sherwood, St Lucia, Kenmore, Brookfield, Coorparoo, Red Hill, Milton, South Brisbane, North Brisbane.