WHAT IS SKIN NEEDLING?
Skin needling, also called microneedling, involves the use of a rolling device covered in over one hundred microscopic needles which are carefully rolled over the skin. Skin needling is designed to correct a variety of conditions including mild to moderate scarring, fine lines, uneven skin texture, open pores, sun damage and loss of skin resiliency. It can also be used to reduce stretch marks.
The purpose of skin needling is to induce growth factors within the skin which in turn increase collagen and elastin fibres. The result is a smoother more resilient skin with a more organised cellular and fibrous structure. It is described as a form of skin rejuvenation.
THE SKIN NEEDLING PROCEDURE
Skin needling is performed in our rooms by our Registered Nurse. Initially the skin is cleansed twice and then further prepared with alcohol to remove all oils, products and sunscreen from the skin. The procedure can be tolerated without the need for oral pain medication or sedation. However, for your comfort we will apply a layer of topical anaesthetic to the skin which will be left on for 30 minutes prior to the procedure.
The skin needling device will be rolled over the skin in a specific pattern which will be tailored to address your personal concerns. There is normally a mild prickling sensation as the roller moves over the skin. There is no further discomfort after each area has been treated.
WHAT SHOULD I EXPECT AFTER SKIN NEEDLING?
Once the skin needling procedure has been performed the skin will be cleansed with saline and a sunscreen will be applied. You may find that your skin will be slightly swollen and red for the first 24 hours. There may be a slight weeping of the skin in the first 4 hours. In some circumstances, there may be pinpoint bruising which will dissipate in the first 48 hours. During this time there will be no pain, however, your skin may feel sensitive. Aftercare instructions will be supplied on another information sheet.
BEFORE THE SKIN NEEDLING PROCEDURE
Inform the Registered Nurse if you have ever had cold sores. Also you should provide information regarding any medications you take, any current illness and any allergies you may have. You will need to provide information regarding your usual skin care regime.
IS A SINGLE SKIN NEEDLING TREATMENT ADEQUATE?
Everyone's skin is different and each individual will have a programme especially tailored to address their concerns. A small series of needling treatments will be required for most skin concerns; these will be spaced at certain intervals to provide the best outcome for each patient. The programme designed may include the use of other modalities such as microdermabrasion, intense pulsed light or superficial chemical peels. It may also consist of procedures performed by Dr Hills such as laser resurfacing or punch elevation in certain circumstances.
WILL I NEED TO HAVE TIME OFF WORK?
One of the great benefits of this procedure is that most patients are able to commence their normal work activities after the treatment. Redness may be covered with a mineral makeup after 12 hours. However, you must practice good sun protection and avoid strenuous exercise, swimming and saunas for 48 hours. Alcohol should be avoided 24 hours before and after the procedure.
ARE THERE ANY COMPLICATIONS FROM SKIN NEEDLING?
As with all procedures complications may occur after skin needling. Many complications are amenable to treatment and are of a relatively short duration. These include reactivation of cold sores and infection. The risk of infection increases if you were to pick the skin or do not care for the skin as directed. In rare circumstances, the infected areas may cause a mild scar; however, this is usually responsive to the use of creams or injections.
One of the major benefits of this procedure is that the likelihood of pigment changes such as hyper or hypo-pigmentation is greatly reduced compared to most other procedures. This makes the procedure particularly useful for darker skinned individuals whose skin type may preclude them from other treatments.
WHAT SKIN NEEDLING CANNOT DO
Skin needling cannot improve lax skin; surgical options are more appropriate e.g. a facelift.
Skin needling will not completely remove very deep scars. With a series of peels the appearance of scars will be improved. Very deep scars are more responsive to Laser resurfacing and some other procedures.
Skin needling will not remove deep dermal hyperpigmentation.
Skin needling cannot remove broken vessels on the face.
WANT TO KNOW MORE ABOUT SKIN NEEDLING?
To discuss skin needling in more detail, please contact us on 07 3720 8788 or make an enquiry online. We look forward to speaking with you.
Dr Russell Hills is an experienced cosmetic dermatologist based in Brisbane, Australia and is a member of the Academy of Facial Plastic Surgery. Dr Hills also has extensive experience in MOHS surgery for skin cancer removal, and is the principal Dermatologist at Aesthetix.
Dr Hills regularly lectures on cosmetic and laser surgery and skin cancer removal, and has numerous publications on these topics. He is a member of a number of Australian and American medical associations, and attends local and international conferences to stay up-to-date with the latest approaches in cosmetic medicine.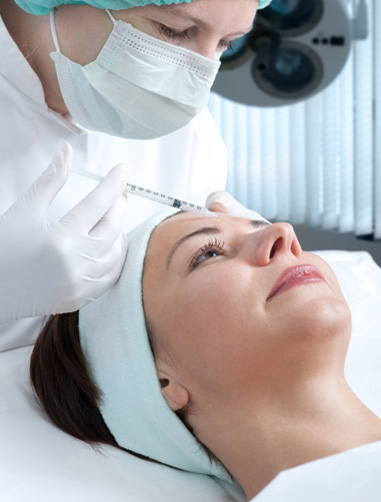 Adherence to the information on this site will not ensure successful treatment in every situation and will not ensure specific results in the individual patient. Although complications may be rare, there are certain inherent risks connected with surgical procedures that should be discussed with the dermatologist. This Website contains very general information and any procedures mentioned in it should be discussed in detail with your dermatologist at the time of consultation.
Skin Needling in Brisbane:  Our services include stretch mark reduction treatment, mild scarring treatment, moderate scarring treatment, fine lines treatment, uneven skin texture treatment, open pores treatment, sun damage treatment and loss of skin resiliency.
We also offer cosmetic surgery services and facial plastic surgery by Dr Russell Hills in our cosmetic clinics in Brisbane, based in Auchenflower and Nundah, including dermal fillers, chemical peels and scar removal, along wth tattoo removal and body sculpting.
Our clinics are based in Auchenflower and Nundah, Brisbane. We service clients in the greater Brisbane area, including but not limited to: central Brisbane CBD, Auchenflower, Paddington, West End, Bardon, Toowong, Spring Hill, Kangaroo Point, New Farm, East Brisbane, Newstead, Kelvin Grove, Ashgrove, Indooroopilly, The Gap, Highgate Hill, Chapel Hill, Morningside, Bulimba, Enoggera, Grange, Lutyche, Clayfield, Nundah, Chermside, Everton Hills, Everton Park, Greenslopes, Sandgate, Woollongabba, Southbank, Carindale, Mount Gravatt, Moorooka, Acacia Ridge, Logan, Springwood, Nudgee, Ascot, Hamilton, Taringa, Annerley, Yeronga, Tennyson, Graceville, Sherwood, St Lucia, Kenmore, Brookfield, Coorparoo, Red Hill, Milton, South Brisbane, North Brisbane.