USEFUL INFORMATION
Two out of three Australians will develop a skin cancer at some stage in their life. Fair skinned people who don't tan but sunburn are at greater risk. People with red hair and blue eyes and people who freckle or have many moles are also at increased risk. Certain drugs and ointments may make a person more susceptible to skin damage from ultraviolet radiation.
There are three main types of skin cancer: basal cell carcinoma, squamous cell carcinoma and melanoma. Solar keratoses (often called "sunspots") are not skin cancers but over time they may turn into a squamous cell carcinoma.
BASAL CELL CARCINOMA (BCC)
This is the most common, but least dangerous type of skin cancer, accounting for approximately 75% of skin cancers in Australia. BCC grows slowly over months and years and is non-malignant – it rarely spreads to other parts of the body.
SQUAMOUS CELL CARCINOMA (SCC)
SCC is less common than BCC but grows faster, usually over a period of weeks to months. SCC commonly occur on the head, neck, hands, and forearms. SCC is more serious than BCC as it may spread to other parts of the body if not treated promptly. SCC rarely occur before 40 years of age and are almost always a result of years of exposure to the sun.
MELANOMA
Melanoma is the most dangerous form of skin cancer, as it may spread to other parts of the body. If detected early, however, it is curable by surgical excision. There is a 90% chance of survival if a melanoma is detected in its early stages. In Australia, more than 6700 people are diagnosed with melanoma each year and around 900 people die. One in 32 Australians will develop melanoma by the age of 75.
SOLAR KERATOSES
Solar keratoses appear on areas which are frequently exposed to sunlight. These are not skin cancers but can, over time, turn into SCC. They indicate intensely sun-damaged skin and may warn that the skin is prone to cancer.
TREATMENT
In advising the best treatment for you, your Doctor will take into account a number of factors including your age, general health, the type and size of your cancer, where it is on your body and your personal preference. The following treatments may be used:
SURGERY
Sometimes to obtain a sample for a biopsy the entire spot is surgically removed in a simple operation. If the cancer is larger or spreading, it may need to be excised via a technique called MOHS Micrographic Surgery or in hospital under a general anaesthetic. Sometimes a skin flap or skin graft will be necessary to close the defect created.
CURETTAGE & CAUTERY
If you have a small basal cell carcinoma, your Doctor may simply scrape it off under local anaesthetic using a small instrument called a curette. The Doctor may then use cautery to control any bleeding and to destroy any remaining cancer cells. This involves using a needle to pass a very mild electric current into the area. This technique commonly leaves a white scar.
RADIOTHERAPY
This is not used often in the treatment of skin cancers. However it may be useful where surgery might be difficult or disfiguring or if the person is medically unfit for surgery. In radiotherapy, high energy rays are used to destroy the cancer cells. A degree of scarring will be produced by this treatment and you should discuss this with your Doctor.
CHEMOTHERAPY
In chemotherapy, drugs are used to destroy cancer cells. A drug in the form of a cream or solution is usually applied directly to the skin cancer. It is used every day, often for several weeks. The skin in the area may become red and inflamed, but this will only be temporary, and there are usually no other side-effects. It is most commonly used for treating solar keratoses.
Interferon injections, over a 3 week period, may be suggested as treatment for certain BCC. Effectiveness and possible side-effects can be discussed with your Doctor.
LASER RESURFACING
Laser resurfacing can be used in the treatment of keratoses and very superficial skin cancers. This is a useful field treatment to address large areas of solar damage and sometimes the whole face is resurfaced in patients who have extensive facial dysplasia.
PHOTO DYNAMIC THERAPY (PDT)
Non-surgical treatment for skin cancer
There is a non-surgical treatment option for some non-melanoma skin cancers (NMSCs) and certain types of pre-cancerous lesions. Medically, these lesions are know as superficial and nodular basal cell carcinomas and actinic keratoses (or solar keratoses). Your doctor may refer to them as BCCs or AKs or simply 'lesions'. As well as being effective, the potential for scarring with PDT treatment is minimised.
How does PDT work?
PDT uses a different approach to treatment of these lesion in comparison to conventional treatments. It is a simple, non-invasive treatment that consists of the application of cream to the lesion(s) followed by its exposure to light from the specifically designed Aktilite lamp. The cells in the lesion absorb the active ingredient from the cream. When exposed to the red light from the Aktilite lamp, a chemical reaction occurs which destroys the lesion, minimizing side effects and the potential for scarring.
What does PDT treatment involve?
PDT is short for Photo Dynamic Therapy. Photo Dynamic Therapy involves three simple steps:
Simple preparation of the lesion
Application of the light activated cream to the lesion
Exposure of the lesion to a special red light
When exposed to the red light, the ingredient in the cream is activated and destroys abnormal cells that cause these BCCs and AKs.
What advantages does PDT provide over conventional treatments?
Clinical studies in Australia and around the world have proven that PDT treatment is effective for treating these lesions. The additional advantage it provides is excellent cosmetic results. The non-invasive and selective nature of the treatment minimise the potential for scarring and side effects. In many cases, BCCs and AKs can be removed without a trace.
This is one of the reasons why clinical studies in Australia and overseas have found that most patients who have had previous treatment for AK with cryotherapy or a topical chemical therapy were more satisfied with PDT treatment.
What side effects can this treatment have?
Not everyone experiences side effects. Some people experience local discomfort at the treatment site during and after light exposure, which is the most common side effect. These local reactions are generally of mild or moderate intensity and resolve rapidly. Very rarely a photo-toxic reaction can occur which results in a non-infective presentation.
Performed in the doctor's practice
PDT treatment can be performed in the doctor's practice. Unlike some of the other treatment options, it involves just two sessions performed two weeks apart. You can even have several lesions in the same session.
OUTLOOK
More than 99% of people with basal cell carcinoma and squamous cell carcinoma are cured. This includes virtually all those cancers that are found and treated early.
It is important than any new skin cancers on other areas of the skin are treated early. If you notice any symptoms it is a good idea to tell your Doctor as soon as possible.
To discuss skin cancer surgery in more detail or to arrange an appointment, please call 3720 8788 or email info@aesthetix.com.au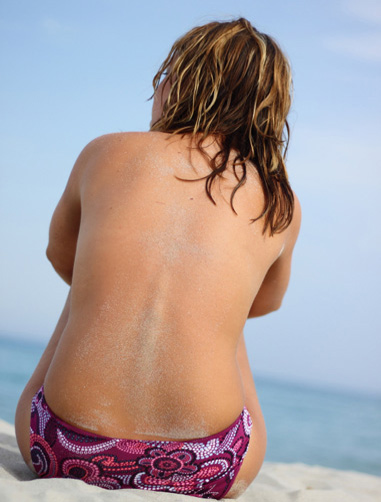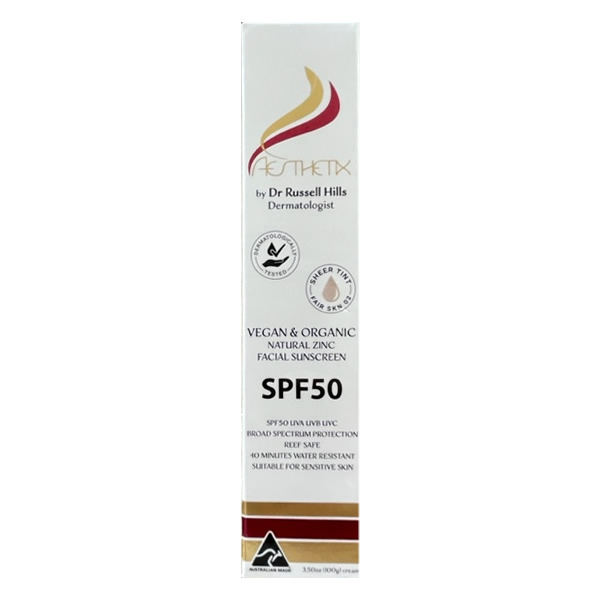 NEW Sunscreen Product
Dr Hills has developed a Zinc Oxide sunscreen containing no chemical sunscreen. Our Aesthetix Sunscreen is available in standard and tinted, and is available for purchase at Dr Hills rooms or you can buy it from our online shop.
Dr Russell Hills is an experienced cosmetic dermatologist based in Brisbane, Australia and is a member of the Academy of Facial Plastic Surgery. Dr Hills also has extensive experience in MOHS surgery for skin cancer removal, and is the principal Dermatologist at Aesthetix.
Dr Hills regularly lectures on cosmetic and laser surgery and skin cancer removal, and has numerous publications on these topics. He is a member of a number of Australian and American medical associations, and attends local and international conferences to stay up-to-date with the latest approaches in cosmetic medicine.
Adherence to the information on this site will not ensure successful treatment in every situation and will not ensure specific results in the individual patient. Although complications may be rare, there are certain inherent risks connected with surgical procedures that should be discussed with the dermatologist. This Website contains very general information and any procedures mentioned in it should be discussed in detail with your dermatologist at the time of consultation.
Skin Cancer Surgery – Dr Russell Hills – Aesthetix – Cosmetic Surgeon Brisbane, Facial Plastic Surgery. Skin cancer surgery, basal cell carcinoma removal, basal cell carcinoma surgery, basal cell carcinoma surgeon Brisbane, bcc cancer surgeon, basal cell cancer surgeon Brisbane, squamous cell carcinoma removal, squamous cancer surgeon, scc cancer removal Brisbane, melanoma removal Brisbane, melanoma removal surgeon, melanoma surgery Brisbane.
Our clinics are based in Auchenflower and Nundah, Brisbane. We service clients in the greater Brisbane area, including but not limited to: central Brisbane CBD, Auchenflower, Paddington, West End, Bardon, Toowong, Spring Hill, Kangaroo Point, New Farm, East Brisbane, Newstead, Kelvin Grove, Ashgrove, Indooroopilly, The Gap, Highgate Hill, Chapel Hill, Morningside, Bulimba, Enoggera, Grange, Lutyche, Clayfield, Nundah, Chermside, Everton Hills, Everton Park, Greenslopes, Sandgate, Woollongabba, Southbank, Carindale, Mount Gravatt, Moorooka, Acacia Ridge, Logan, Springwood, Nudgee, Ascot, Hamilton, Taringa, Annerley, Yeronga, Tennyson, Graceville, Sherwood, St Lucia, Kenmore, Brookfield, Coorparoo, Red Hill, Milton, South Brisbane, North Brisbane.