At Aesthetix Brisbane we offer the latest in non-invasive body contouring technology to ensure:
Effective removal of stubborn fat deposits*
Reduction in the duration of treatment sessions*
Minimal discomfort and downtime*
*individual results may vary
Each body contouring procedure will vary depending on your individual needs and the stubborn areas of fat that you want to target.
We invite you to book a free body contouring consultation in our Brisbane clinic so we can personally assess your body contouring needs and provide you with a treatment plan.
WHAT IS BODY contouring?
Body contouring is the process of reshaping your body to change your appearance. There is a range of treatments available to contour your body, both surgical and non-surgical.
Even with diet and exercise, most adults have stubborn areas of fat that seem impossible to get rid of. Body contouring can help change the contours of the body to create a different appearance.
HOW DO YOU DO BODY contouring?
Body contouring is performed using a range of different procedures, including both surgical and non-invasive body contouring techniques.
Surgical approaches to body contouring, include liposuction, and abdominoplasty.
There are also non-surgical body contouring treatments, including laser body contouring, which use heating and cooling to reduce unwanted fat deposits.
In all procedures, the chosen areas of the body are treated to reduce fat, reshape the skin or lift the area to alter the appearance.
WHAT IS SCULPSURE?
SculpSure is a breakthrough in non-invasive body contouring treatment that targets unwanted areas of fat, such as the abdomen and hips, helping you reshape the area.
The 25 minute procedure uses light-based technology to permanently destroy up to 24% of treated fat in targeted areas, with no downtime (1).
This light energy affects fat cells under the skin, which are broken down and absorbed into the body.
"We're excited to offer this new, non-invasive fat reduction treatment to our patients. We treat the hips and the abdomen and remove unwanted fat effectively and efficiently. Our patients appreciate their results and how quickly the procedure can be performed." Dr Russell Hills, Dermatologist, Aesthetix, Brisbane
WHAT RESULTS DO YOU GET FROM BODY contouring USING SCULPSURE?
Achieving fat reduction and a more contoured body is possible with the help of SculpSure.
With the precision of our SculpSure body contouring technology, we can target precise treatment areas, reducing fat under the skin by as much as 24% in one treatment (1).
SculpSure is demonstrated to reduce fat in the abdomen, hips, back, thighs, and under the chin.
The outcomes shown below are only relevant for the these patients and does not necessarily reflect the results other patients may experience as results may vary due to many factors including the individuals genetics, diet and exercise.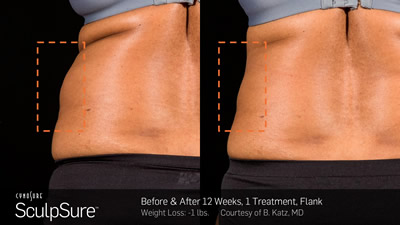 Photo courtesy of S Doughety MD
Photo courtesy of S Doughety MD
WHO IS BODY contouring FOR?
Body contouring is ideal for anyone who wants to drop a couple of dress sizes, or lose a few inches off their waist.
Good candidates for body contouring lead a healthy lifestyle, and are in good physical health, with moderate areas of unwanted fat.
Body contouring can be especially valuable when there are stubborn areas of fat that are resistant to diet and exercise.
Body contouring may not be suitable for individuals with a very high body mass index, or who are looking for a rapid marked change in body shape.
HOW MUCH DOES BODY contouring COST?
The cost for body contouring with SculpSure with vary depending on the treatments required to reduce your targeted areas of fat to the desired level.
When you speak to our dermatologist, Dr Russell Hills, or his registered nurse, they will plan a course of treatments with you to suit your individual body contouring needs, based on the number of areas to be targeted, the amount of fat present and the reduction required.
To find out how much your body contouring treatment will cost, we suggest booking a free consultation to discuss your personal needs.
HOW MANY SCULPSURE TREATMENTS WILL I NEED?
Most patients see results with as little as one body contouring treatment with SculpSure.
However every patient is different, and you may wish to have additional contouring treatments based on your desired results, and the number of areas you wish to target. Three treatments to an area may give the best results.
Ask your SculpSure treatment provider about the best treatment plan for you, and how many body contouring treatments will be required to achieve the results you want.
WHAT SHOULD I EXPECT DURING THE BOdy contouring PROCEDURE?
The targeted area is marked, covered with lotion, and frames are attached securely using belts. The SculpSure applicators are then attached, and the 25-minute treatment begins. Up to 4 applicators can be applied at once, maximizing the treated area.
When the treatment starts, initially you will feel a cooling sensation. This helps keep the skin comfortable during treatment. The cooling will be on the entire treatment, while the laser cycles on and off, raising the temperature of the fat cells.
You are able to relax and read a magazine or browse your phone during the treatment.
IS BODY contouring WITH SCULPSURE PAINFUL?
Body contouring with Sculpsure delivers light energy to the fat cells under the surface of the skin, which produces a slight tingling sensation or a deep warmth throughout the treatment area.
These sensations are felt intermittently throughout the duration of the 25-minute body contouring treatment and are generally well-tolerated (2).
WHAT ARE THE SIDE EFFECTS OF BODY contouring WITH SCULPSURE?
After the 25-minute treatment is finished, you can resume your daily activities, as there is no downtime following treatment.
This means you can have the body contouring treatment during your lunch hour and return to work immediately.
Sculpsure is generally very well tolerated with a tingling or minor discomfort felt in the treatment area, however more discomfort can be felt over a scar.
Sculpsure is not recommended in pregnancy or if there is a skin cancer or melanoma in the treatment area, immune conditions such as HIV and if there is significant scarring or a hernia present in the treatment area.
It is best to book in for a free consultation to assess your suitability for the procedure.
WHEN WILL I SEE RESULTS FROM THE BODY contouring TREATMENT?
Many patients start to see results as early as 6 weeks following the SculpSure body contouring treatment, as the body begins to remove the destroyed fat cells.
Generally, optimal results from SculpSure body contouring are seen at 12 weeks.
If you choose to have multiple body contouring treatments, you will continue to see improvement during the course of your treatments, and also following completion of your treatments.
HOW LONG WILL THE SCULPSURE BODY contouring RESULTS LAST?
The body contouring process that SculpSure uses is laser technology to permanently destroy fat cells under the skin.
This means that those fat cells have been broken down and will not return, ensuring that your reshaped body retains its appearance, provided that you maintain a healthy lifestyle.
IS SCULPSURE BODY contouring PERMANENT?
The fat cells that are broken down by the SculpSure body contouring treatment do not regenerate. They are destroyed by the pulses of laser light, and are gradually removed from the body following treatment, resulting in a more contoured appearance.
This means that the effects of SculpSure body contouring are permanent, as long as you continue to eat a healthy diet, exercise regularly and maintain a healthy lifestyle.
DO YOU LOSE WEIGHT WITH BODY contouring USING SCULPSURE?
When we lose weight, our fat cells become smaller in size, but the number of fat cells in our body typically doesn't decrease. Many people have difficulty losing weight in some areas, even with diet and exercise.
The SculpSure body contouring treatment reduces the number of fats cells in the body, particularly in the targeted areas, and those destroyed fat cells will never return. This means that those areas are less likely to store fat in the future, leading to a more contoured appearance.
READY TO EXPLORE BODY contouring FURTHER?
For a no-obligation discussion on how our body contouring treatments might assist you, please contact us on 07 3720 8788 or make an enquiry online. We look forward to speaking with you.
References
1 Single treatment with an average reduction in fat volume as measured by MRI; Clinic al and Histologic al Evaluations of a 1060nm Laser Device for Non-Invasive Fat Reduction, John W. Decorato, M.D., FACS. Rafael Sierra, Ph.D., Bo Chen, Ph.D., Westford, MA, 2014.
2 Average patient discomfort rating of 3.7 on a scale of 1-10; Bass L, Doherty S. Non-Invasive Fat Reduction Of The Abdomen With A 1060nm Diode Laser .Paper presented at: 2015 Annual American Society for Laser Medicine and Surgery Conference; April 22-26; Kissimmee, FL.
Dr Russell Hills is an experienced cosmetic dermatologist based in Brisbane, Australia and is a member of the Academy of Facial Plastic Surgery. Dr Hills also has extensive experience in MOHS surgery for skin cancer removal, and is the principal Dermatologist at Aesthetix.
Dr Hills regularly lectures on cosmetic and laser surgery and skin cancer removal, and has numerous publications on these topics. He is a member of a number of Australian and American medical associations, and attends local and international conferences to stay up-to-date with the latest approaches in cosmetic medicine.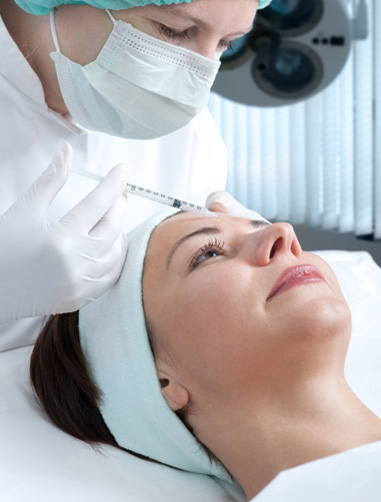 Adherence to the information on this site will not ensure successful treatment in every situation and will not ensure specific results in the individual patient. Although complications may be rare, there are certain inherent risks connected with surgical procedures that should be discussed with the dermatologist. This Website contains very general information and any procedures mentioned in it should be discussed in detail with your dermatologist at the time of consultation.