The dermal fillers used at Aesthetix are next generation injectable gel. The natural injectable gel acts as a skin 'filler' to replace structure and volume to skin.
The dermal filler is used either to enhance your lips or smooth out facial wrinkles and folds, providing a natural look and feel.
It is carefully injected beneath the skin's surface to 'fill in' or 'plump up' facial wrinkles and folds and is used as an under-eye filler, cheek filler and face filler.
HOW DOES SKIN CHANGE WITH AGE?
Natural substances such as collagen, elastin and hyaluronic acid that provide the skin with structure and volume decease with age. This, together with environmental factors such as exposure to sunlight, smoking and stress all contribute to how our skin ages. Over time, the skin layers and the fat layer underneath thin, and combined with skin laxity, results in lines and wrinkles which can be addressed with dermal fillers.
HOW DO DERMAL FILLERS ENHANCE MY FACE?
Dermal fillers are used to both fill lines and wrinkles and to volumize the face. Initially, dermal fillers were mainly used to efface lines, however, thicker fillers are used as under the eye fillers and cheek fillers to volumize the contours of the face.
HOW AND WHY DO WRINKLES FORM?
Many facial wrinkles occur when we use our muscles to form facial expressions. The wrinkles formed during facial expression are called dynamic wrinkles. When we are young our skin springs back to its initial position at rest but as we get older these wrinkles remain on the skin. The wrinkles and folds present at rest are called static wrinkles. This process occurs because natural substances such as collagen, elastin and hyaluronic acid that provide the skin with structure and volume decrease with age. The volume loss is exacerbated by fat and bony volume loss, particularly in the central/mid-face region, which responds well to cheek fillers. This, together with environmental factors such as exposure to sunlight, smoking and stress contribute to the creation of wrinkles and folds.
DERMAL FILLERS CAN BE USED TO IMPROVE:
Acne scars
Depressions or pockmarks in skin due to injury or disease e.g. Chicken Pox marks
Deep 'smile lines' which run from the side of the nose to the corners of the mouth
Tear troughs using under eye filler
'Crow's feet' at the corners of the eyes
'Frown lines' which run between the eyebrows
'Forehead lines' which run across the forehead
Re-volumize with face fillers and cheek fillers to improve facial contours
HOW DOES THE DERMAL FILLER SMOOTH OUT WRINKLES?
Unlike wrinkle-relaxing injections that treat dynamic wrinkles by relaxing the muscles that cause the wrinkle causing facial expressions, our dermal filler is placed below the skin's surface to literally 'fill in' or 'plump up' the static facial wrinkles and folds that are present at rest. The filler is used to diminish the depth of wrinkles and create a more smoothed facial appearance. Cheek fillers are injected deeply to re-contour the face.
WHAT IS THE DERMAL FILLER MADE OF?
The smooth injectable gel is made from a natural complex sugar called Hyaluronic Acid (Hy-al-ur-onic Acid). Hyaluronic Acid (HA) is found naturally within the tissues of living cells, including human skin. HA assists in skin hydration by attracting and holding water and also combines with collagen and elastin to provide skin structure and elasticity.
The HA in our injectable gel is not derived from animals and is manufactured and purified by the manufacturer, especially for the smoothing of wrinkles and volume enhancement.
WHAT DOES THE DERMAL FILLER PROCEDURE INVOLVE?
Treatment with our injectable gel is a non-surgical procedure by which a few injections are administered by a trained medical professional. Your doctor may decide to administer a topical (cream) or local anaesthetic to help numb the area being treated. Dermal fillers are injected into the skin itself to address lines and wrinkles but are injected more deeply as a cheek filler or face filler to volumize an area. Most people resume their normal activities immediately after the procedure.
HOW LONG DOES THE DERMAL FILLER RESULT LAST?
The results you receive should last for a least 6 months, however, the cheek and face fillers can last up to 18 months.
ARE THERE ANY SIDE EFFECTS FROM DERMAL FILLERS?
Because the HA in our dermal filler is naturally present within the skin and not derived from animals, there is no need for an allergy pre-test before treatment. HA dermal fillers have been clinically studied for many years and clinical trials have shown that injectable gel is well tolerated.
The injection itself should cause minimal discomfort, and if experienced, side effects are generally temporary injection site-related effects, the majority of which should last 3 days or less. Patients may experience injection site redness, pain, firmness/hardness, swelling, lumps/bumps, bruising, itching or discolouration. Most people resume their normal activities immediately following the procedure. Very rarely blockage of facial vessels can occur.
READY TO TALK ABOUT DERMAL FILLERS?
Please contact our clinic for further information regarding under-eye filler, cheek fillers and face fillers or make an enquiry online. We look forward to speaking with you.
Dr Russell Hills is an experienced cosmetic dermatologist based in Brisbane, Australia and is a member of the Academy of Facial Plastic Surgery. Dr Hills also has extensive experience in MOHS surgery for skin cancer removal, and is the principal Dermatologist at Aesthetix.
Dr Hills regularly lectures on cosmetic and laser surgery and skin cancer removal, and has numerous publications on these topics. He is a member of a number of Australian and American medical associations, and attends local and international conferences to stay up-to-date with the latest approaches in cosmetic medicine.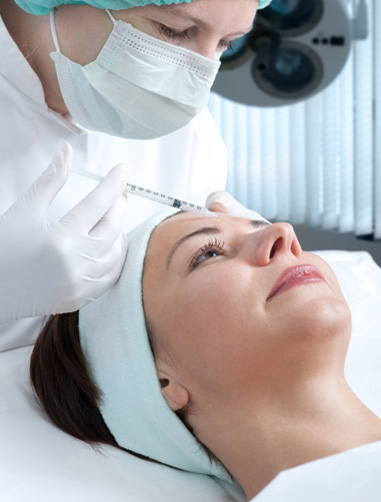 Dermal Fillers in Brisbane: Our services include natural dermal filler treatment, acne scars treatment, pockmarked skin treatment, chicken pox marks treatment, dermal filler for deep smile lines treatment, dermal filler for crow's feet treatment, dermal filler for frown lines treatment, dermal fillers for worry lines across the forehead.
We also offer cosmetic surgery services and facial plastic surgery by Dr Russell Hills in our cosmetic clinics in Brisbane, based in Auchenflower and Nundah, including eyelid lifts,  skin needling and scar removal.

Our clinics are based in Auchenflower and Nundah, Brisbane. We service clients in the greater Brisbane area, including but not limited to: central Brisbane CBD, Auchenflower, Paddington, West End, Bardon, Toowong, Spring Hill, Kangaroo Point, New Farm, East Brisbane, Newstead, Kelvin Grove, Ashgrove, Indooroopilly, The Gap, Highgate Hill, Chapel Hill, Morningside, Bulimba, Enoggera, Grange, Lutyche, Clayfield, Nundah, Chermside, Everton Hills, Everton Park, Greenslopes, Sandgate, Woollongabba, Southbank, Carindale, Mount Gravatt, Moorooka, Acacia Ridge, Logan, Springwood, Nudgee, Ascot, Hamilton, Taringa, Annerley, Yeronga, Tennyson, Graceville, Sherwood, St Lucia, Kenmore, Brookfield, Coorparoo, Red Hill, Milton, South Brisbane, North Brisbane.